Pontoons are the "social boats" of our boat rental fleet. Whether you plan to soak in the sun, take a refreshing swim, or socialize with friends and family, these spacious vessels are the perfect way to enjoy the great pastime of boating. Call H2O Craft Rentals & Repair at (209) 833-6893, or request a quote online now.
Pontoon Boat Rental
8 Person Capacity • 20 ft Pontoon • 50 Hp Engine • Large Couch • 2 Front Fishing Chairs • Large Canopy • Rear Boarding Ladder • CD Player and Stereo • $1,000 Damage Deposit
---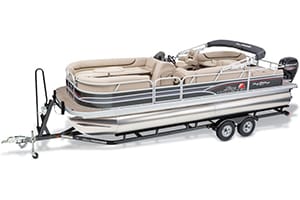 Pontoon Boat Rental
11 Person Capacity • 22 ft Pontoon • 115Hp Engine • 4 Large Couches & Table • Tow Bar • Rear Boarding Ladder & Large Canopy • Blue tooth stereo • $2,500 Damage Deposit
---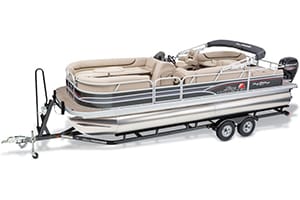 Pontoon Boat Rental
12 Person Capacity • 24 ft Pontoon • 150Hp Engine • Stereo with iPod Mini Jack or USB Hookup • Rear Boarding Ladder • Large Canopy • Table • 2 Person Rear Facing Lounge • Cup Holders Throughout • $2,500 Damage Deposit
---
When choosing H2O Craft Rentals, you have the freedom to take your pontoon boat rental wherever you want. We're located in Manteca, California, which is just minutes from the major interstates that head toward Lake Camanche, Lake Don Pedro, Lake Tulloch, Woodward Reservoir, Lake Tahoe, and other statewide lakes and attractions. We'll load the boat on a trailer and have you on your way in minutes. You can also launch the boat directly into the California Delta —
Request a Pontoon Rental Quote Online!
Pontoon Rental Perks
From couch-style seating and large bimini shades to iPod hookups and a gas grill, pontoon or patio boat rentals bring a new level of comfort and entertainment to boating. Whether you want a quiet family outing or an energetic family reunion, our pontoons are the perfect venues.
Why We're Different
H2O Craft Rentals has been making a splash in the boating industry ever since we opened our doors for business in 1994. Below are some of the things that set us apart:
Flexibility: Our trailers give you the freedom to decide where to boat. Just pick up your pontoon rental and head to an area lake.
Convenient location: Manteca, California, is only one hour east of San Francisco and San Jose and just minutes from Interstates 5, 205, and 580. Many people find that we're right on the way to their favorite lake.
Price: You shouldn't have to break your budget to have a fun vacation. Whether you want a fishing boat rental or a fast ski boat rental, we have affordable rates and incredible specials.
Contact H2O Craft Rentals at (209) 833-6893 to learn more or request a quote online now. In addition to pontoon boat rentals, we also have jet ski rentals and a professional boat repair shop. We look forward to serving you.